Statement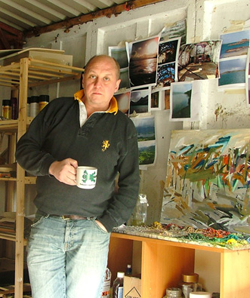 I am motivated by an interest in the possibility of, and processes involved in the transfer and transformation of personal and individual experience to visual image.
More often than not, this has involved considering how my experience of landscape, in the widest sense of the word, triggers a switch in identity from something that is purely a spatial location adds meaning and importance to the individual as either creator or viewer and redefines that 'space' as 'place'.
How we experience our landscape is informed by a collective philosophical, physiological, technological, and economic terrain that is constantly shifting ground and is imperceptible from that when Cezanne first suggested that emotion or sensation might play a significant part in creative output. His huge achievement was that he defined the problem and that the physical act of painting is fed by an instinctive and direct connectivity with the subject is now a given.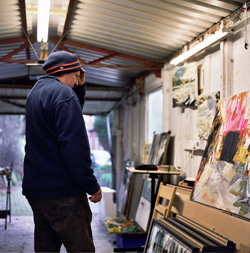 And so what I do is make visual images that are my field of research into a language that communicates more than what I see or what I can explain. In truth, it is probably more about what I can't explain - but know to be there – and i'm equally sure I will never really be able to arrive at a coherent explanation, but my belief in its importance is now irreversible.
What I have come to realise is that my experience of any landscape is not just that of a painter and that we do not see everything around us, perception is empirical, and we construct a personal visual solution which informs the creative response.
Each painting reflects a convergence of that experiential impact during the production of the image which is played out during development and as a single image of that place and only at that time.