Representing the unrepresentable
For as long as he can remember, Colin Taylor has had a fascination with art and the possibilities it offers. Having graduated from Nottingham Trent University with a degree in Fine Art and Drama, he worked for a short time as an Artist in Residence for Nottinghamshire schools and also as a part time lecturer in art history.
During this time Colin came across a book by the Australian artist Sydney Nolan and was struck by Nolanís use of the landscape as a backdrop for his series of paintings about the bushranger, Ned Kelly. Colin was interested in the way that Nolan interpreted that landscape as a backdrop for a narrative in much the same way as a set design works in the theatre.
The nineties marked changes in Colinís personal direction and circumstances. A move to Manchester also marked a career shift following a friendís advice to earn more than an artistís wage by selling advertising
space for the Manchester Evening News. This non-art career evolved as Colin gained experience in regional economic development and destination or Ďplaceí marketing for the leisure and tourism sectors.
By this time Colin had developed two parallel identities; the man who went to work in the morning in a shirt and tie and the messy painter in t-shirt and jeans......he was also spending more and more time travelling and climbing mountains.
Looking back it now seems inevitable that the landscapes and cityscapes in his artwork would merge with the natural mountainous landscapes in which he was walking. The opportunity to turn his love of mountains into a business followed and took Colin to some of the worldís most remote and dramatic landscapes. Although he didnít know it at the time, this was to be the catalyst his arts practice needed and it began to re-invent itself.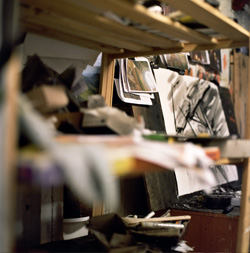 Colin has come to believe that it is possible to paint Ďaboutí a place but impossible to actually paint what you see in a moment. When time, light, mass and space are ever changing, is it possible to transfer the experience of a 20,000 ft mountain to a canvas? His drawings and paintings are executed rapidly relying on instinct and Colinís own experience of the subject. The narrative is still there, except that the landscape itself, has moved centre stage.
Colin now divides his time between his twin passions of art and mountaineering, each one influencing the other.