Liverpool Echo 4/3/11.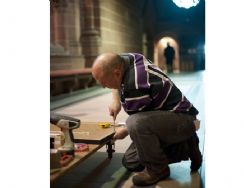 Catherine Jones of The Liverpool Echo talks to artist Colin Taylor about his latest work
HE'S more used to drawing inspiration from wide open landscapes, so it's no surprise that when artist Colin Taylor came to sketch something man-made he chose one of the largest cathedrals in the world.
Fifteen months and some 100 drawings after he first put pencil to paper, the fruits of his new-found inspiration go on display on Monday – in the very place they capture.
Around a third of the pieces of artwork he's created will be showcased at strategic points throughout Liverpool Cathedral, with a map to help visitors track them down.
"I was doing bits and pieces, drawing in the cathedral just for myself," says Colin, who is based in Manchester but who is one of the campaigners behind the restoration of the Florrie in Dingle, a key building in the ECHO's Stop the Rot campaign.
"And then I thought, it might be interesting to do a series of pieces here. I approached the Chapter and asked if they were interested, and Canon Anthony Hawley said 'this is great.'
"And the cathedral have been no less than brilliant – they really embraced the idea."
So what was it that attracted Colin, a keen mountaineer whose work normally explores wide open landscapes and nature, to the sandstone landmark?
"It's big," he points out. "And while I'm used to working in big external spaces, this is a big internal space. There's still a sense of scale but you're aware you're in a man-made environment.
"The exhibition doesn't depict a like-for-like representation of spaces within the cathedral, rather how it feels to experience those spaces."
The drawings are created using layers of charcoal, chalk, graphite or iron powder which have been applied, erased and re-applied, sometimes over several months.
From Tracey Emin's pink neon 'For You' commission to the 15th century statue in wood of the Kneeling Madonna by Giovanni Della Robbia, the cathedral has a collection and exhibition programme to rival some of the largest and most diverse galleries.
But this is the first time it has hosted an entire exhibition (entitled Cathedral Spaces) inspired by the building itself and by a single artist.
"For those already familiar with the interior of Liverpool Cathedral as well as for those who are visiting for the first time, we hope this exhibition will help us to see this magnificent space in a new way," says Canon Hawley, who has curated the exhibition.
And Bishop of Liverpool James Jones adds: "Colin's drawings show how the great spaces of Liverpool Cathedral are both haunting and hopeful.
"They give visitors a vision of a soul both daunted and transfixed by this vaulted space."
Cathedral Spaces opens on Monday and runs until April 26. Entrance is free and all the works on display are available to buy.
Liverpool Echo 4th March 2011