'Walking through Aysen'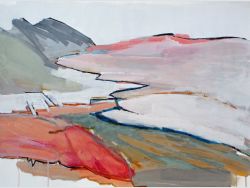 The Embassy of Chile, London. Opens 29th November 2021
This is a series of paintings about the region of Aysen in Chile.
I had little prior knowledge of the area before travelling there to bike and climb and I decided to avoid too much searching on the internet, preferring instead to encounter the landscape at first hand. My immediate response was an admiration of the pristine environment; human intervention and infrastructure is minimal and contained.
There was also a sense, and this stuck with me throughout that despite its scale and scape, the landscape was wrapped around you, something that you can touch and that you are part of. Possibly because it was completely unknown terrain, my experience of it was not simply as a visual prospectus for a painter, but as a landscape to be part of.