'Number One, Spinningfields'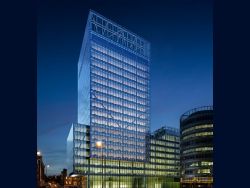 A few months ago I was commissioned by the leading firm of architects, 'Simpson Haugh Partners' to undertake a series of 12 paintings that will be installed in 'Number 1, Spinningfields' a new 90m tower currently under construction in central Manchester.
The series of paintings will reflect the constructions process itself and how the sightlines into, from and within the space change over the 18 month construction period up to Spring 2017. Access has been granted from several vantage points from within the site as well as a series of 'heli-sketches' from above during the construction process.
In addition to the 12 commission pieces, there will be a significant body of additional work that may form the basis of a supporting exhibition at some point in the future, although no agreement on that has yet been reached.